Comprehensive Review: Chrysler Pacifica, Chrysler Town & Country, and Dodge Grand Caravan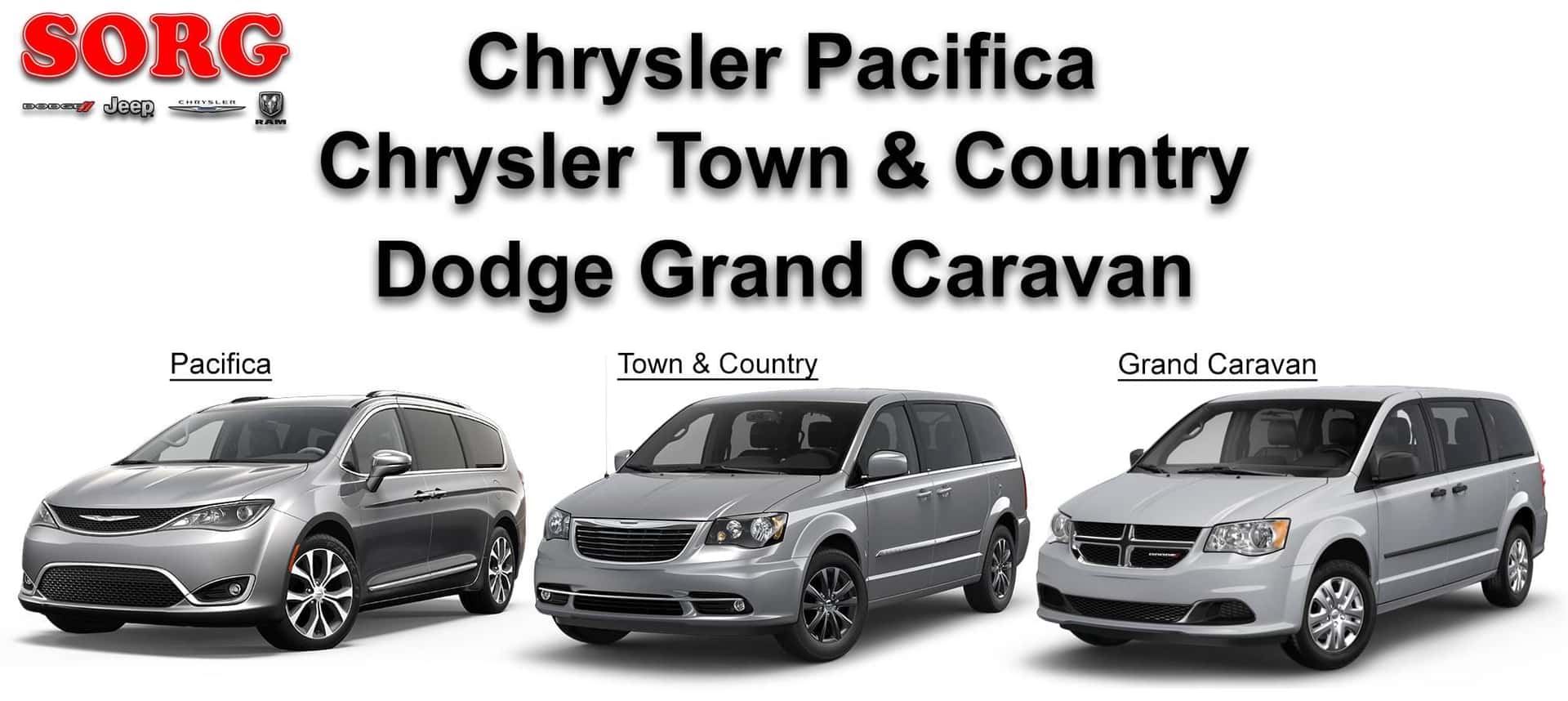 The Chrysler Pacifica, the Chrysler Town & Country, and Dodge Grand Caravan; all have some very unique options, however the Pacifica has been taking the market by storm as Chrysler has replaced the Town & Country with the all new Pacifica.  However, don't forget about the Dodge Grand Caravan with it's many years and constant adaptation in the market.  Although very similar, there are certainly some differences that are very noteworthy for all of you in the market for a family vehicle.  Now when we say that the Town & Country is no longer going to be in production, what we actually mean is that Chrysler has essentially rebranded the Town & Country as the all new Chrysler Pacifica.  So what are some of the notable differences between Pacifica, Town & Country and Grand Caravan?  Lets dive in with a deeper, more detailed look.
Performance
The three minivans begin their differences with their engine setups.  The Pacifica is available as a hybrid or gasoline powertrain.  With the gasoline setup, the Pacifica comes equipped with the 3.6-liter Pentastar V6 engine.  The Town & Country is powered by a 283-horsepower 3.6-liter V6.  The Town & Country is not available as a hybrid.  Similar to that of the Town & Country; Dodge Grand Caravan also comes with the 283-horsepower 3.6-liter V6, however it can have a Flex-Fuel engine that packs more energy than most determined toddlers.  The engine operates effectively with unleaded gasoline with an octane rating of 87 or E-8511, or any mixture of these two fuels.  It also has 260 LB-FT of torque to contribute to the 3,600-pound towing capacity with the available Trailer Tow Group.  The group includes a Class II receiver hitch, a load-leveling and height-control suspension and a four-pin connector wiring harness.
While these engines may have similar horsepower, the 3.6-liter Pentastar offered on the Pacifica offers several enhancements meant to maximize fuel economy.  The Pacifica engine features two-step variable-valve lift, cooled exhaust-gas recirculation and engine stop-start technology.  In correlation, the Grand Caravan can accommodate a highway mpg (miles per gallon) of up to 25 mpg.  Each of these vehicles are very efficient and very unique in their own way.  Which happens to make for a comfortable and stress free driving experience.
Entertainment
As family vehicles, minivans need to be able to keep everyone entertained on long trips.  The Chrysler Town & Country sets a significant standard for the Pacifica to reach.  The Town & Country offers an available dual-DVD/Blu-ray player system, which includes a third row screen.  The Town & Country also offers an upgraded sound system, along with Bluetooth, USB and Auxiliary connectivity.
As great as the entertainment systems of Town & Country are, they still cannot match those offered on the Chrysler Pacifica.  The Pacifica is set to completely change the standards for minivan entertainment.  The Pacifica offers the new Uconnect Theater system that features two high-definition 10-inch touch screens located on the back of the headrests of the front seats that can each display separate content.  The Pacifica also offers front and rear cameras, as well as a 360 degree camera on top which is very neat.
Dodge Grand Caravan has an available Radio 430N which includes a high-resolution 6.5-inch touchscreen, ParkView® Rear Back Up Camera, Garmin® GPS Navigation, SiriusXM® Satellite Radio with one year of service included and more.  You can also use your favorite toys in the Dodge Grand Caravan.  Connect virtually any music player or gaming system for your passengers and let them stay online with available Web by Mopar®.
Touching in more detail on the Uconnect Theater, it also includes wireless connectivity, built-in games and apps, parental controls, multiple USB ports, HDMI connectivity and remote controls.  The system will also offer connectivity with a variety of supported devices, such as tablets and smartphones.
Exterior & Interior
It is very visible that these three minivans have a very similar look to them.  That in mind, looks can be very deceiving as they all have their own unique take in the minivan industry.  Let's explore!
---
Chrysler Pacifica

The Chrysler Pacifica Limited offers impressive available 20-inch polished aluminum wheels with tech gray pockets.  Available LED lower light pipes and headlamp bezels are finished in chrome for a cohesive appearance.  The chrome elements of the grille will blend seamlessly into the projector headlamps.  The Pacifica also offers hands-free sliding doors, with a simple kick below the sensors on the side sliding doors, the hands-free power sliding doors will open magically.  Another adaptive feature of the Chrysler Pacifica is the ability to keep your kids connected to natures great outdoors with colorful skies with an available tri-pane panoramic sunroof that lets the outside in to your new Pacifica.
As for the interior of the Pacifica, it is the only only minivan in its class with the Stow'n Go Seating and Storage System.  Slide the front seats forward with Stow'n Go Assist for easy access to the in-floor bins.  Furthermore, the days of climbing through the trunk to get into the third row are over.  The Class-Exclusive Easy Tilt Seating lets passengers access the third row with the simple lift of a lever.  Clearly one can see that the Pacifica was designed for comfort, as it has seating for up to eight passengers.  Heated and available ventilated front row seats and available power folding seats in the third row.  When hauling that many passengers, things can tend to get messy.  Not to worry, as the Pacifica has you covered for all those snacks and dirt on the floor with their available Stow'n Vac powered by RIDGID, the most powerful vacuum in the segment.  The vacuum does extend throughout the entire cabin.
---
Chrysler Town & Country

Chrysler Town & Country has paved the way for the Pacifica.  That said, the exterior of Chrysler Town & Country is going to fairly similar to that of the Pacifica.  It does come with an available back-up camera to eliminate having to use the rear view mirror, as we all know, can have several distractions in its view.  The optional parking sensors are certainly an added bonus to eliminating those blind objects in your way.  Add an optional sunroof for that summer sky and breeze experience.
The Town & Country does have the capacity for third row seating, which can accommodate up to 7 passengers.  To accommodate for more space, they have also designed cargo space underneath the floor mats.  You can get a leather steering wheel with an available heated option.  Combine all of that with the steering wheel audio and cruise control settings, as well as, universal remote (garage door transmitter, security settings, etc…) and you are off to an excellent start to your day.
---
Dodge Grand Caravan

Dodge Grand Caravan is pretty unique with its quad halogen headlamps and available fog lamps to help you see the obstacles in your way, while LED taillamps impress your followers.  To much lighting?  It also comes available with deep-tinted sunscreen glass that keeps all passengers comfortable while helping to block out some of the sun's rays.  On top of that, one no longer has to share seats with suitcases and camping gear, as they have added oversized cargo to the top of the Grand Caravan with the available Stow N Place Roof Rack System with black or bright side rails.  Offered with power sliding side doors and an available power liftgate, you can concentrate on gettting your precious cargo in and out with ease.
The interior of the Dodge Grand Caravan has room for seven, plus storage behind the third-row seat.  Or, stow the second and third rows for more than 140 cubic feet of free space.  Their Stow'n Go Seating and Storage System makes carrying anything very efficient.  Dodge Grand Caravan engineers have designed the Grand Caravan for comfort with premium cloth interiors, available leather-trimmed seats and soft-touch armrests and door panels.  When the Dodge Grand Caravan is parked, the 60/40 split folding third-row seats can flip completely rearward into the tailgate position for some reverse seating.  You can can actually flip the seats individually or recline them in the tailgate position.  Overall, similar to that of the Chrysler Pacifica and Town & Country, yet still has its very own unique feel.
---
Conclusion
Though all three minivans, Chrysler Pacifica, Chrysler Town & Country, and Dodge Grand Caravan, all appear to be very similar; after taking an in-depth look, one can certainly see that each is very unique in their own way.  Keep in mind, as you move forward with your search for a new minivan, this is not an end-all-be-all guide for your personal preference.  Should you have any questions at all, we have an excellent team of product specialists on hand here at Sorg Dodge for all of your product questions and needs.  Furthermore, if you already own a minivan of any make or model, our parts and/or service team is here to accommodate you for your every need.  First and foremost, there is no better time than time with family.  Now get out there with the family in your new minivan and start exploring adventures together.  Click here for some excellent family road trip vacation ideas to help get you started.  Thank you for following us at Sorg Dodge.  We look forward to having you be a part of the Sorg Dodge family.
Sincerely,
Sorg Dodge
2016 Chrysler Town & Country Overview
https://www.edmunds.com/chrysler/town-and-country/2016/#edm-entry-pricing
2017 Chrysler Pacifica Overview
http://www.chrysler.com/pacifica.html
2017 Chrysler Pacifica Exterior
http://www.chrysler.com/pacifica/exterior.html
2017 Chrysler Pacifica Interior
http://www.chrysler.com/pacifica/interior.html
RIDGID Vacuums
https://www.ridgid.com/
Chrysler Rebrands Town & Country to all new Pacifica
http://www.carbuzz.com/news/2016/1/11/Chrysler-Kills-Off-The-Town-Country-Meet-The-Pacifica-7731415/
Dodge Grand Caravan Overview
http://www.dodge.com/grand-caravan.html
Dodge Grand Caravan Engine Performance
http://www.dodge.com/grand-caravan/performance.html
Dodge Grand Caravan Exterior
http://www.dodge.com/grand-caravan/exterior.html
Dodge Grand Caravan Interior
http://www.dodge.com/grand-caravan/interior.html
Garmin
http://www.garmin.com/en-US/
Sirius XM
http://www.siriusxm.com/
Flex Fuel Information
https://www.fueleconomy.gov/feg/flextech.shtml
Sorg Dodge
Sorg Dodge Contact Us
Sorg Dodge Order Parts
Sorg Dodge Schedule Service
Uconnect System
http://www.driveuconnect.com/support/identify-your-system/
Bluetooth
https://www.bluetooth.com/
How HDMI works
http://electronics.howstuffworks.com/hdmi.htm
Family Road Trip Vacation Ideas
http://www.redbookmag.com/life/mom-kids/advice/g528/best-usa-road-trips/?